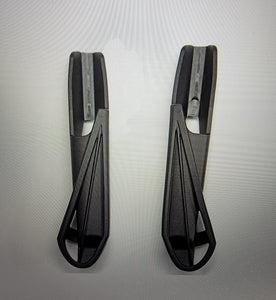 REPLACEMENT Ursus Jumbo Foot (choose: 1 Left, 1 Right or Pair)
Replacement Ursus JUMBO 80 Kickstand Foot Replacements (L/R)
We offer the URSUS JUMBO replacement feet as depicted in the image. If your URSUS Jumbo kickstand foot does not resemble the image, please contact us prior to ordering.  You may need a different replacement foot.
To ensure proper alignment and stability of the kickstand, we recommend replacing both the left and right feet. If you need to order a replacement foot for only one side, please choose the appropriate foot based on the location of the chain. The foot replacement marked with "L" should be selected for the side with the chain, while the foot replacement marked with "R" should be chosen for the side without the chain.
If you have any questions, please include a note with your order. 
---
We Also Recommend
---